PfSense Stateful Fırewall
PfSense Açık Kaynak Kodlu bir dağıtımdır.
---
---
Firewall
Filtering by source and destination IP, IP protocol, source and destination port for TCP and UDP traffic Limit simultaneous connections on a per-rule basis pfSense software utilizes p0f, an advanced passive OS/network fingerprinting utility to allow you to filter by the Operating System initiating the connection. Want to allow FreeBSD and Linux machines to the Internet, but block Windows machines? pfSense software allows for that (amongst many other possibilities) by passively detecting the Operating System in use.
Option to log or not log traffic matching each rule.
Highly flexible policy routing possible by selecting gateway on a per-rule basis (for load balancing, failover, multiple WAN, etc.)
Aliases allow grouping and naming of IPs, networks and ports. This helps keep your firewall ruleset clean and easy to understand, especially in environments with multiple public IPs and numerous servers.
Transparent layer 2 firewalling capable - can bridge interfaces and filter traffic between them, even allowing for an IP-less firewall (though you probably want an IP for management purposes).
Packet normalization - Description from the pf scrub documentation - "'Scrubbing' is the normalization of packets so there are no ambiguities in interpretation by the ultimate destination of the packet. The scrub directive also reassembles fragmented packets, protecting some operating systems from some forms of attack, and drops TCP packets that have invalid flag combinations."
Enabled in the pfSense software by default Can disable if necessary. This option causes problems for some NFS implementations, but is safe and should be left enabled on most installations.
Disable filter - you can turn off the firewall filter entirely if you wish to turn your pfSense software into a pure router.

State Table
Kural Bazlı Özelllikler
◎ Eşzamanlı istemci bağlantıları sınırlama
◎ Her bir istemci için oturum sınırlama
◎ Saniyede bağlanacak bağlantıları limitleme
◎ Saniyede her yeni bağlantı limitleme
◎ Oturum zaman aşımı tanımlama
◎ Oturum türü tanımlama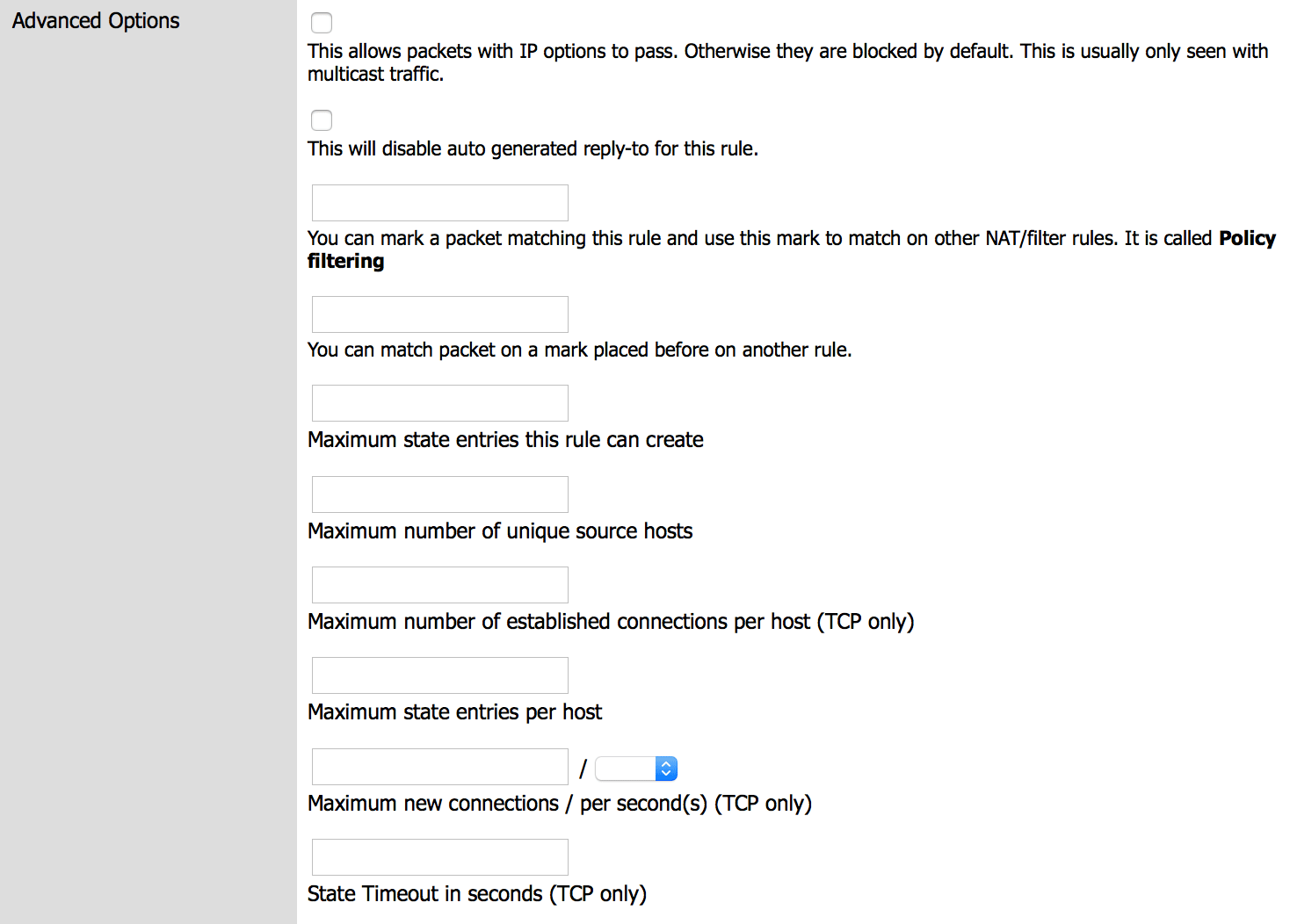 ---
State types - PfSense oturumlar için birden fazla seçenek sunuyor.
◎ Keep state - Tüm protokoller ile çalışır. Tüm kurallar için varsayılan olarak gelir.
◎ Sloppy state - Tüm protokoller ile çalışır. Asimetrik yönlendirme durumlarda yararlıdır kısa ve sık oturumlar için izleme özelliği.
◎ Modulate state - TCP protokulü ile çalışır. PfSense host yerine güçlü sıra numaraları Initial Sequence Numbers (ISNs) üretecektir.
◎ Synproxy state - TCP bağlantılarında spoof ataklarda sunucuyu korumaya yardımcı olur.
◎ None - Bu özellik oturum bilgilerini tutmaz. Bu seçenez pek tercih edilmesede bazı kısıtlama durumlarında kullanılabilir.


---
Oturum tablosu performans seçenekleri - PfSense oturum tablosu optimizasyonu için dört seçenek sunar.
◎ Normal - Varsayılan ayarları kullanır.
◎ High latency - Uydu bağlantıları gibi yüksek gecikmeli bağlantılar için kullanılır. Boşta kalan bağlantıları normalden daha geç kapatır.
◎ Aggressive - Boştaki bağlantıları daha hızlı sonlandırıp, donanım kaynaklarını daha verimli kullanır ancak bu seçeneği seçerseniz meşru boştaki bağlantıları sonlandırır.
◎ Conservative - Meşru boştaki bağlantıyı sonlandırmak pahasına artan CPU ve bellek kullanımını önlemeye çalışır.


---
Layer7 Seviyesinde Bloklama
Trafik Şekillendirici
◎ Genel ve IP bazlı Hız Limitleme
◎ Layer7 Bloklama ve Hız Limitleme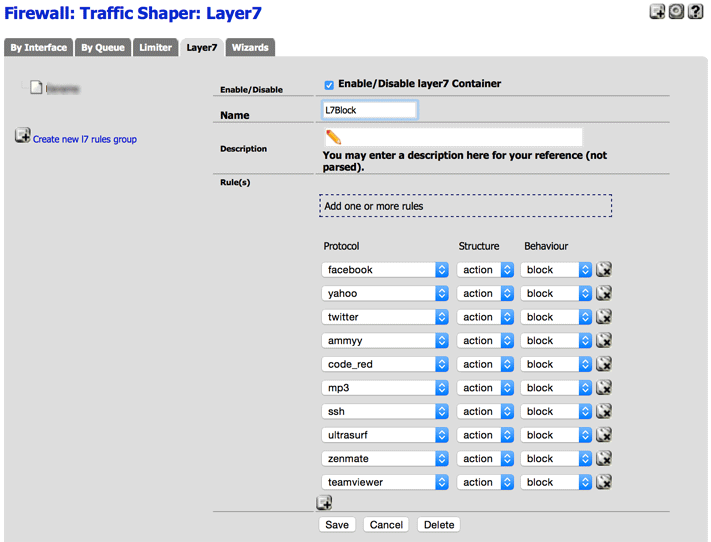 Detay Güncelleniyor

---